Muzzle Break Compensators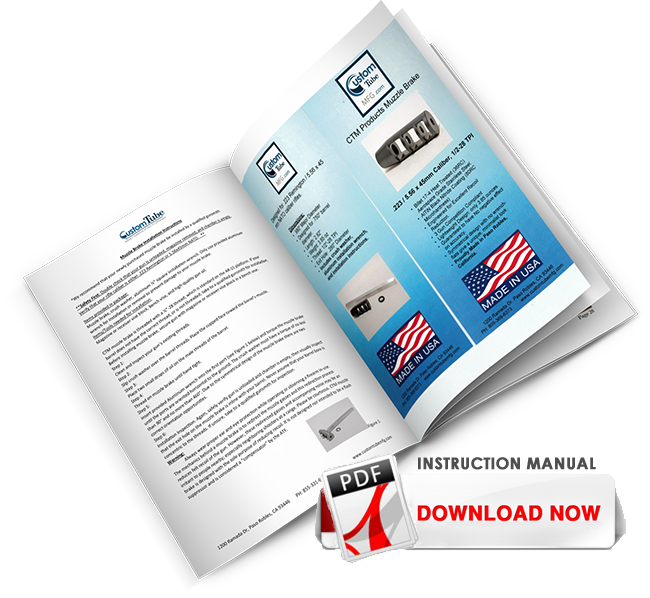 Designed for .223 Remington / 5.56 x 45 mm NATO caliber rifles
Dimensions:
.980″ Diameter tapering to .750″ barrel diameter.
Length: 2.82″
Weight: 3.85 oz
Thread: 1/2″-28 TPI
Exit Hole: .280″ Diameter
Includes crush washer, aluminum installation wrench, and installation instructions
CTM Products muzzle brake is machined from Billet 17-4 Heat Treated (36RC) Aerospace Grade Stainless Steel.
Machined to Aerospace Tolerances to ensure ultimate performance.
3 Gun Competition Compliant.
Lightweight Design: only 3.85 ounces.
Guaranteed to have no negative effect on accuracy.
Symmetrical design with no wrench-flats give a unique, minimalist look. (Aluminum Non-Marring Wrench is provided)
Excellent recoil reduction which leads to faster target recovery and less shooter fatigue.
Perpendicular Baffle Design directs muzzle blast away from the shooter.
Over 40 years of experience in the Aerospace and Nuclear industries.
Guaranteed you'll like it or your money back.
100% MADE IN THE USA
Reasons to buy CTM Products Muzzle Brake:
1. Most competitors use soft, not heat treated steel or soft stainless steel such as 303 or 304; which have hardness's not even in the Rockwell C-scale. Our's is heat treated Aerospace grade stainless steel with a hardness of no less than 36 Rockwell C. All gun barrels are heat treat so why would you compromise your barrel with a soft piece of steel on the end of your weapon. Think of CTM's muzzle brake as an extension of your barrel.
2. Each part is fully inspected including concentricity to ensure you get the best quality product possible. This is how we can guarantee there is no negative effect on your rifle's accuracy.
3. Lightweight design is possible by the use of high-strength 17-4 stainless.